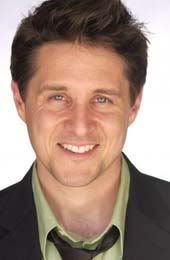 Here is the interview that i did with Yuri Lowenthal. Due to his busy schedule he was only able to answer 5 questions and 5 ben questions. I hope you all like the interview. Thanks Again Yuri!
1. When you were younger, was voice acting what you wanted to do?
Nope. I thought sometimes I'd want to be an actor, but I didn't even consider voice acting as a job...
2.What would you say was the biggest influence on your decision to become a voice actor?
How receptive the people hiring were to me. If they had been less interested, I'd probably still be working in an office.
3.When doing the voices of your characters is there any preparation?
Depends on the character. Some require more warm-up. Mostly my preparation consists of imagination.
4.How had you ended up getting the role of Garth / Icicle in Young Justice? Was there an audition or had the voice director come and ask you to do the role?
I auditioned for several other characters in YJ, but didn't get them. But the YJ guys liked what I did, so they brought me in for something else.
5.Out of all the Voice work you have played over the years, do you have a particular favorite? If so, why?
It's too hard to choose one, but among my favorites are Sasuke, Ben, Superman, Kuma & The Prince from the Prince of Persia
Now I'll begin asking my Ben 10 Alien Force and Ultimate Alien questions...
1. When you got cast in the lead role on Ben 10 Alien Force to play Ben Tenneyson, you had said that you didn't want to sound like her, but you made sure that the character was the core of her(Tara Strong's) voice - Ben's spirit, his essence came out of your voice. Had you put any of you're personality in Ben 10's character?
Definitely. I can't play ANY character without putting some of me into it.
2.Was it hard to voice Ben Tennyson on your vocals or easy?
It wasn't a stretch from who I am naturally.
3.When you did the voice of Ben in both series was it with the other cast in the same room or had you done the recordings seperately?
We luckily record together in the same room. I prefer that!
4.I was wondering if you could tell me if this is the last season of Ben 10 Ultimate Alien or will there be another season? Or will there be another series in the works?
Hopefully there will be another season but I'm not sure yet!
5. Are there any upcoming projects he's working on that he'd like us to know about?
I worked a lot of the new Saints Row game and can't wait to play it. And there are other projects, but I'm not allowed to talk about them yet!
Thanks again for doing the interview, am a huge fan of your work and appreciate you taking the time out of you're busy schedule to do it. Hope we can stay in touch. Joe
You're welcome, Joe.